Prizes & benefits
More than winning
---
As well as giving you the opportunity to take stock of your career achievements, and connect with other outstanding women, the Telstra Business Women's Awards offer a number of other benefits, including: 
Mentorship with a Telstra senior and accomplished female executive (Australia only) 
A Telstra technology package (Australia only) 
Cash prizes
The chance to capitalise on your success by displaying the Telstra Business Women's Awards finalist or winner logo
Two tickets to attend your State/Territory Dinner (Australia only)
A framed commemorative certificate
For State/Territory winners outside the gala dinner location, and finalists from Asia, one return economy airfare to Sydney or Melbourne for National judging, the Workshop and the Awards Gala Dinner
Two nights accommodation in Sydney or Melbourne  
Two tickets to the Awards gala dinner presentation ceremony in Sydney or Melbourne  
Beyond the prizes, if you are a finalist or winner you also become part of a vibrant and mutually supportive Alumni community. Past winners have found this extends their networks and brings more business opportunities their way. They've also been able to draw on Alumni knowledge and support, and forge valuable friendships with other successful women.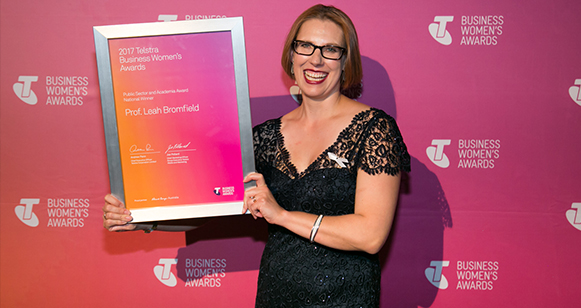 I feel that being part of this community is a gift and I didn't need to be on stage to be a winner tonight. It's phenomenal, thank you.
University of South Australia
2017 Telstra Australian
Public Sector And Academia Award Winner